Here is how NovuGens solves your identity, authentication and
"Digital Proof of Life"
challenges.
BIOMETRICS + MOBILE + 
DATA 
ANALYTICS + BLOCKCHAIN
Our solution can scale to 
g
lobal 
o
rganizations or small 
companies.
Reliable Biometrics for Identity Validation and Authentication
Our solution is built on the most flexible and secured frameworks to ensure data protection at all levels. We work with our customers to implement the authentication methods you require based on your needs.
Scalable so you can perform hundreds or millions of authentications on demand
Leverage the most current and reliable mobile standards for strong authentication (FIDO)
Perform secure, mobile-enabled "Digital Proof of Life", anywhere anytime in the world
Prevent password breaches with reliable biometrics technology
Select one or multiple authentication options, based on your needs
Users enroll via mobile app in 3 minutes or less
Single-user fee for unlimited enrollment and authentications per year
Optional voice biometrics via interactive voice response (IVR)
Read more
Take Control with Advanced Data Analytics
Leverage advanced data analytics to monitor enrollment, authentication and "Proof of Life" compliance. With our Analytics Portal, you have complete visibility to ensure high adoption rates and ROI, as well as empower you during audits.
Deploy quickly by uploading basic user data, or fully integrate with your existing internal applications
Monitor adoption enrollment and authentication by region, country, individual user and other parameters
Enhanced data visualization to optimize decision making
Automate or manually trigger email or mobile app alerts for user compliance
Mobile-enabled validation or manual "Proof of Life" process in a single portal
Read more
Trusted Data Protection & Integrity
Security is our number one concern, so we use proven authentication and biometric frameworks to ensure your data is always safe. All our servers are hosted within Amazon Web Services (AWS) facilities so that you can rest easy knowing your resources are well protected. Or you can host the entire solution on premise.
Data Protection Standards adhere to GDPR requirements
Biometric data captured and converted via a complex algorithm for additional security
Apply multi-factor authentication as another way we protect your data
Leverage the most current and reliable mobile standards to secure data transmissions (FIDO)
Liveliness detection and anti-spoofing methods are used to prevent fraudulent authentications
We leverage blockchain technology to further support data integrity and reduce auditing challenges
Read more
Execute a Comprehensive Rollout Strategy
We understand that deploying a solution to users can be a daunting and costly task, often taking many months. We reduce your risk by working alongside your team to customize, fully test, and ensure a successful deployment.
Flexible solution implementation strategies depending on timeline and budget; integration with internal systems is optional
Rollout strategies can be hundreds, thousands or millions of users
We leverage our resources and experience to ensure your successful rollout and high adoption rates
Our team closely collaborates with your internal teams to ensure complete knowledge transfer
No single client is the same; we work together to develop a comprehensive change management and communications strategy that works for your organizational culture
We adapt to your hosting needs, whether SaaS, On Premise or Hybrid
Read more
Technical and Advisory Support to Increase ROI and Adoption Rates
Our commitment is to ensure your solution is fully functional and deployed successfully. We work with your internal teams to address any issues, which could impact your ROI and adoption rates. Your mobile app includes multiple ways for your end users to request and receive technical assistance.
Convenient mobile application support button to request and track technical assistance
Together, we monitor user completion and potential issues during all steps of the onboarding and authentication processes
The Analytics Portal cleverly mines data to highlight areas or individuals who may need direct assistance
We continuously improve and customize the solution to provide users with the most value-added features
Read more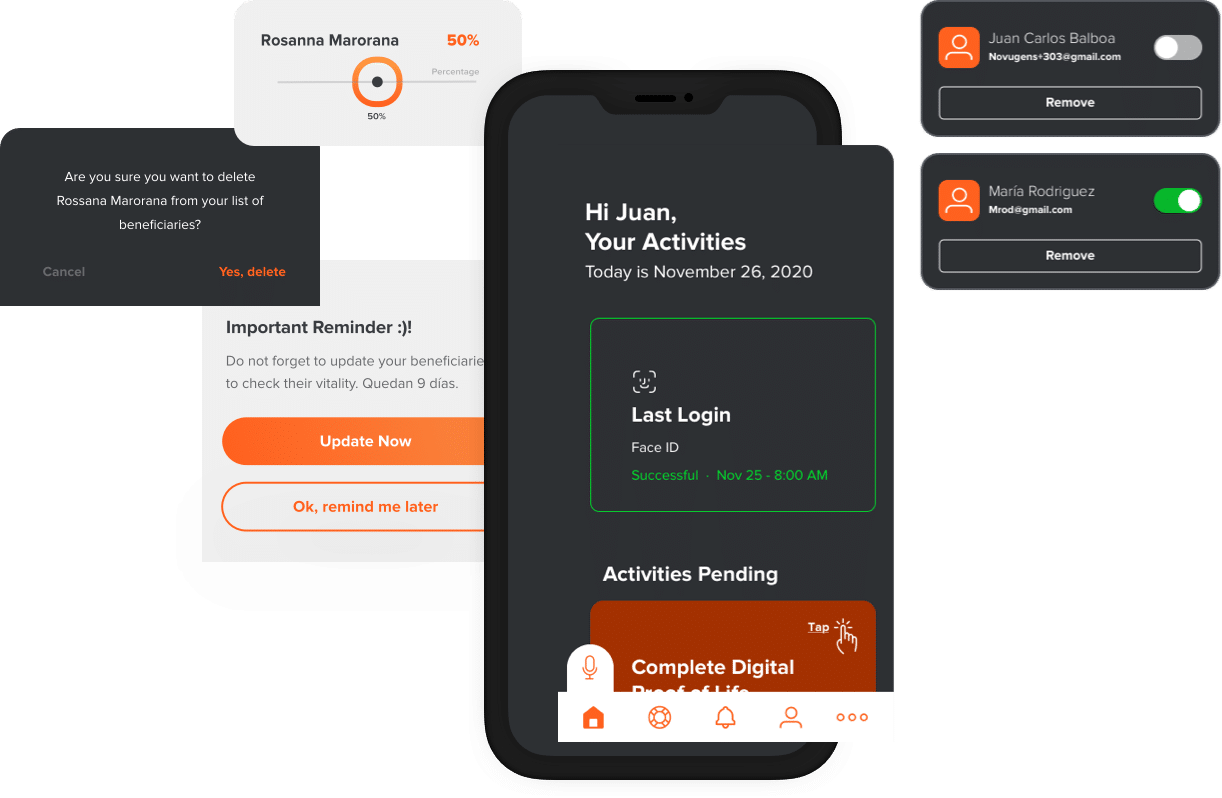 Easily Rebranded and Customized Interface
Customize the Mobile Applications and Analytics Portal with your company style guidelines to ensure it fits enterprise brand. We are agile partners in your journey to ensure your success and ROI.
Mobile application is designed modularly so we can quickly add and remove features that fit your company needs and requirements
Customize with your own solution name, logo and colors to ensure it aligns with your corporate brand. Need a feature not available?
Our team of experts can quickly design, develop and implement new features to best fit your needs
Mobile application is also available in multiple languages to increase adoption rates
Fully functional for iOS, Android and most other Apple devices
Read more
Mobile-Enabled "DIGITAL PROOF OF LIFE" Solution
We are your solution and logistics partner to ensure your deployment success.