Biometrics + Mobile + Analytics + Blockchain
Digital Proof of Life Authentication Solution
Mobile Application
Simple, Reliable, Flexible, Secure
The mobile application design and architecture has been modularly designed to allow maximum flexibility, security and changes. Mobile process, screens, features, language, color style and palette can be adjusted for each client in a matter of weeks. Beyond "Proof of Life" compliance, the app provides users with the ability to update other information such as beneficiaries, custodians, tax or human resource critical data.
View more +
Analytics Portal
Data Aggregation & Risk Analysis
The Analytics Portal has been designed to capture data from a variety of sources in order to provide pension team maximum visibility for user compliance and risk. Manage risk from a central portal and ensure all data is well documented. Delegate access to multiple pension officers and administrative staff, and centrally manage all attestations. Centrally manage and trigger re-onboarding, email reminders, lock-out scenarios and support
View more +
Biometrics Server
Industry Proven Enterprise Solution
The core biometrics solution is not only proven for clients with millions of users, but it also provides the flexibility to store minimal personal identifiable information (PII) to increase security and GDPR compliance. The solution is FIDO2 compliant, which is a new open and secured standard for managing biometrics.
View more +
Want to learn more about our services?
Whether you have a simple question or want to learn more about how NovuGens can help you – we'd love to connect with you.
Applying the highest industry security standards to ensure data integrity, security and compliance
GDPR Compliance
GDPR compliant to ensure personal data collection and processing is protected, as well as transaction privacy, anonymous PII, and EU standards of data protection.
Innovation
Biometrics authentication that is tested and industry certified to enable integration with multiple platforms, delivering a higher quality solution that is interoperable, market and deployment ready.
Security & Compliance
FIDO Alliance's biometrics certification for simpler, stronger online authentication, ensuring levels of False Accept Rate with resistance to predefined presentation attacks.
Android & iOS Enabled
Our solution leverages cryptographic algorithms that deliver >99% reliability, accuracy, availability, and maintainability for strong identity and access management.
Blockchain Integration
Leverages the power that blockchain technology offers to deliver and store secure transaction references that ensure data integrity, critical for auditing purposes.
ID37 Hosting Options
We understand that client internal policies require us to provide several hosting options. Our solution hosting options leverage Amazon Web Services (AWS) capabilities which adhere to some of the most stringent security and standards among all cloud environments.
Other Value Added Capabilities
An easy to use Analytics Portal that provides "Proof of Life" compliance, transparency, and Risk Management.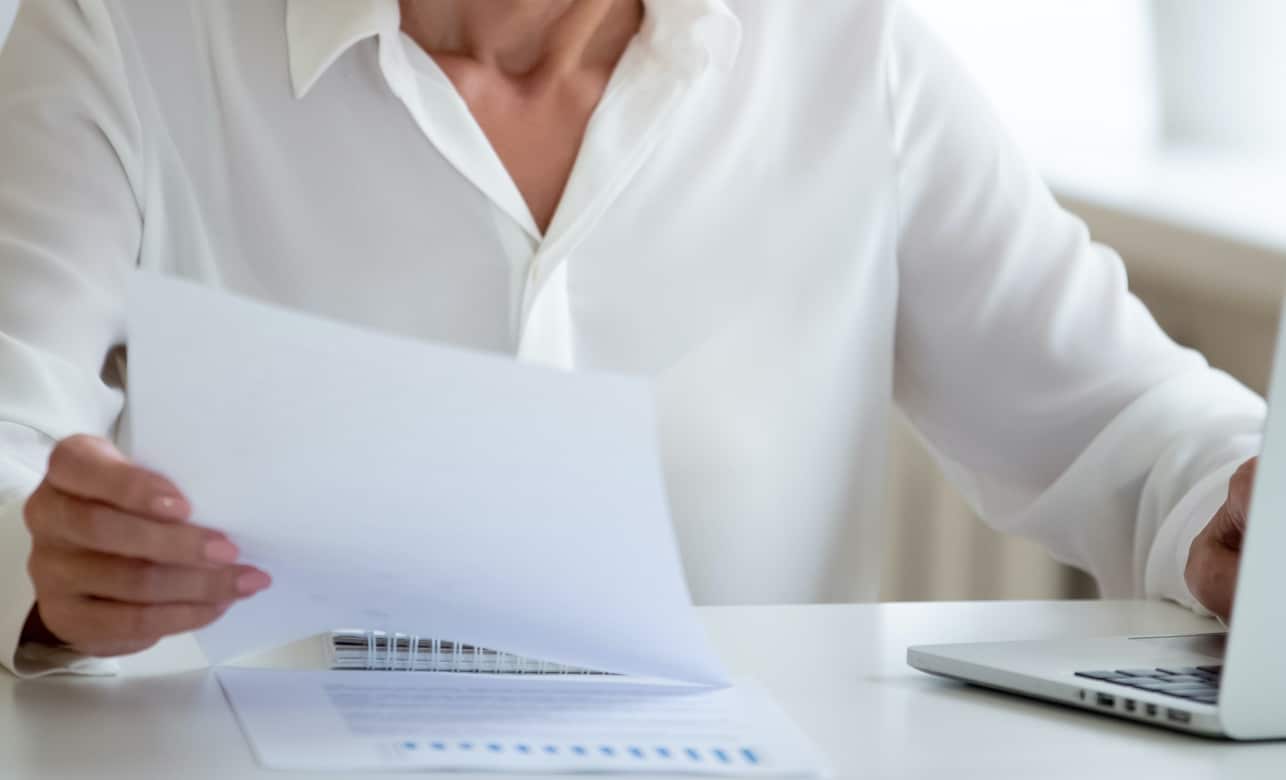 ENSURE DATA INTEGRITY
Biometric enrollment and authentication transactions can be hashed within blockchain platforms such as Ethereum, Quorum, Hyperledger, and LACChain which is a new Latin American regional standard. A hash is a pointer stored in a blockchain platform which is linked to transactional data. Any changes to core data will affect the hash, thereby indicating that data tampering has occurred.
Multi-Language Mobile Application
AVAILABLE IN MULTIPLE LANGUAGES
To increase user adoption, ease of use, and increase accuracy, the application enrollment and authentication process can be changed to several core languages including Spanish, Portuguese, French and Italian.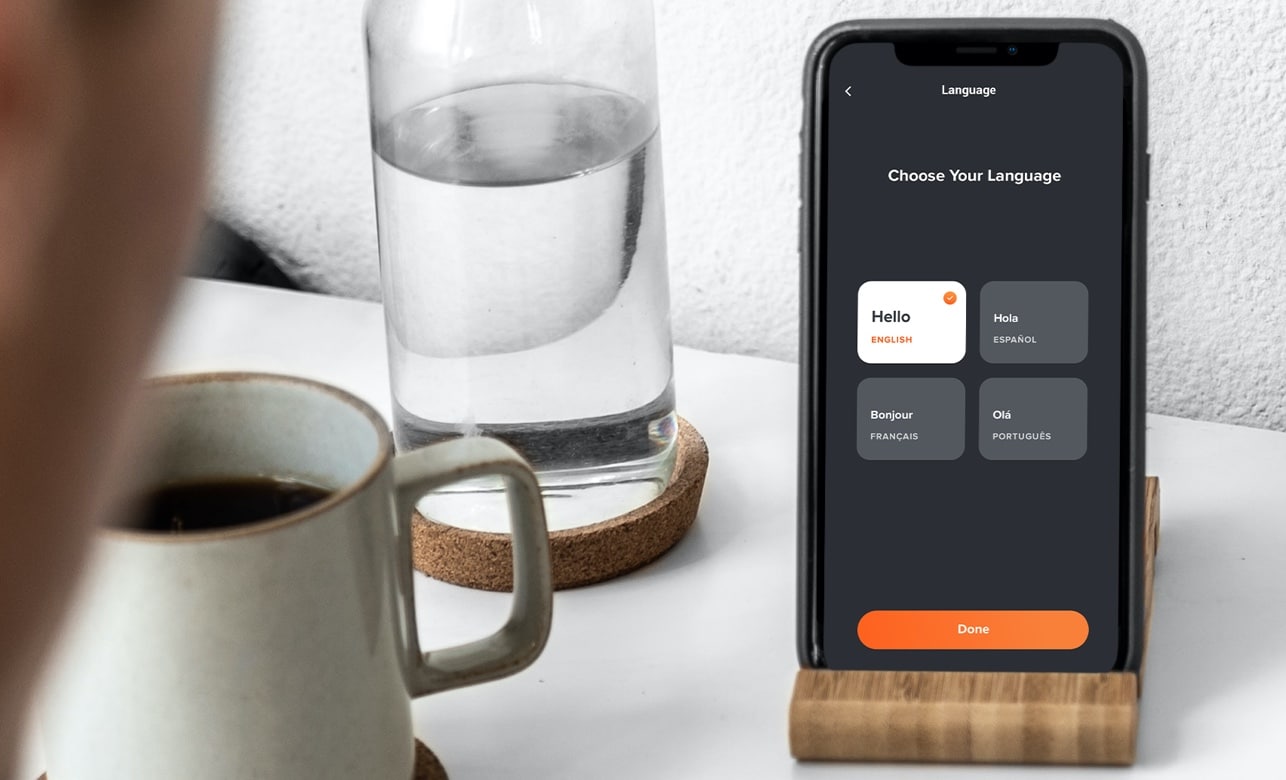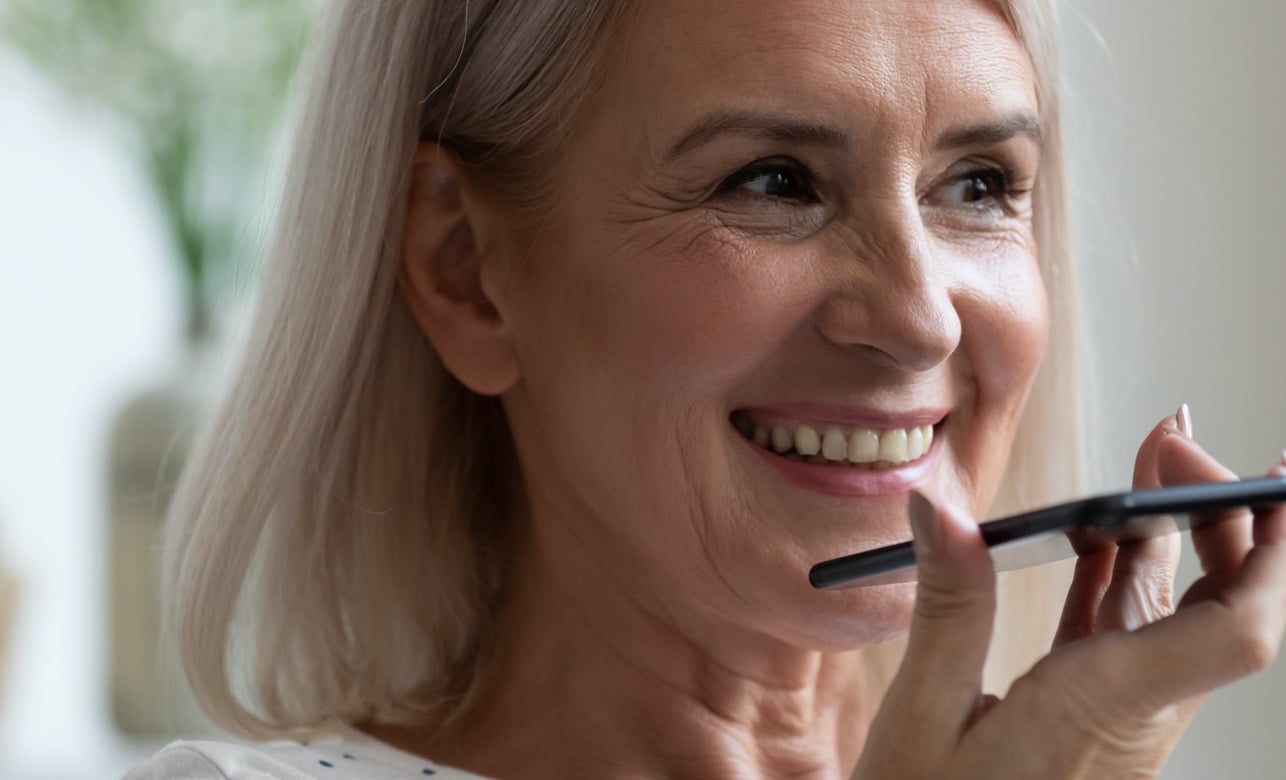 Interactive Voice Recognition (IVR)
VOICE RECOGNITION VIA TELEPHONE ONLY
For those instances when downloading the mobile application is simply not an option, we provide the ability for customers to call a designated local phone number where they can follow an automated process to enroll their voice and later authenticate.  The voice signature is captured and validated against the same biometrics' server used via the mobile application.
CORPORATE BRANDING & TERMINOLOGY
Each implementation is customized to fit the client's branding to ensure high adoption rates and consistency with existing applications. A new biometrics server, analytics portal and mobile app is implemented for each client to ensure data security and integrity. The data analytics portal displays information from all sources to display a cohesive and centralized view of all enrollment and authentication activity for auditing purposes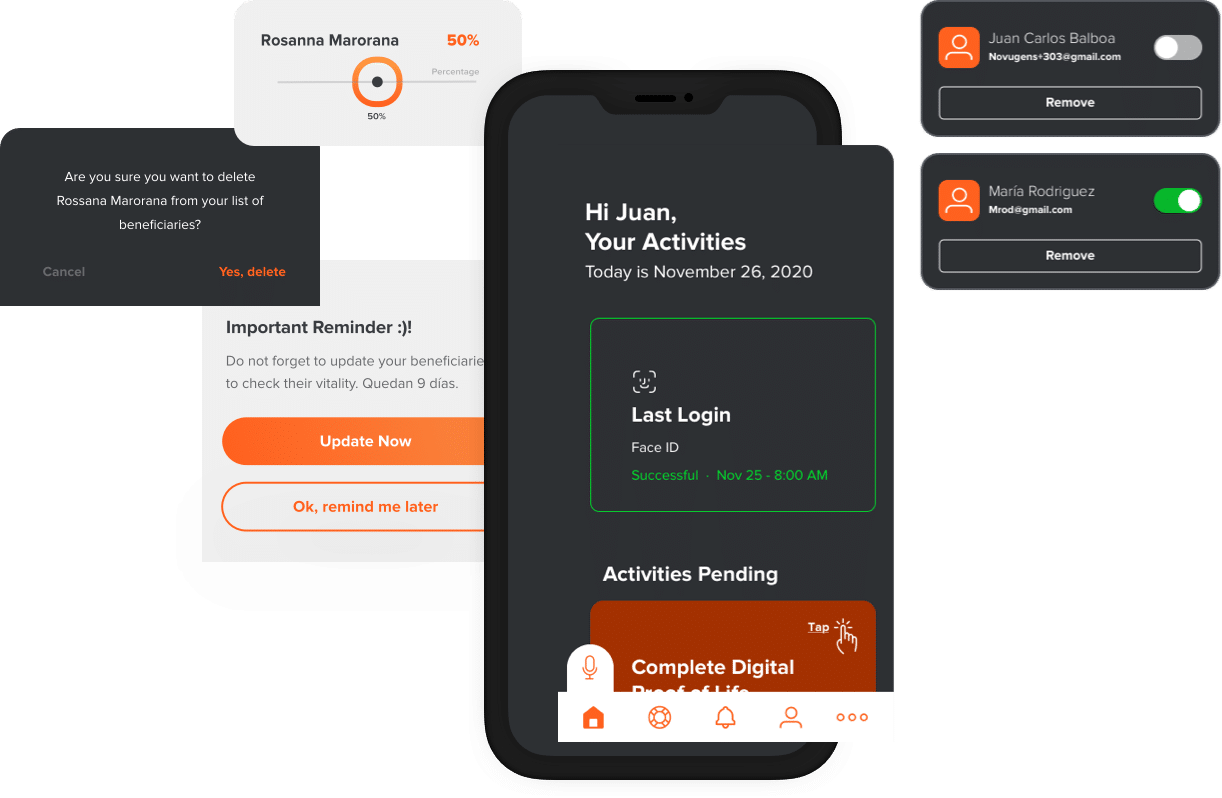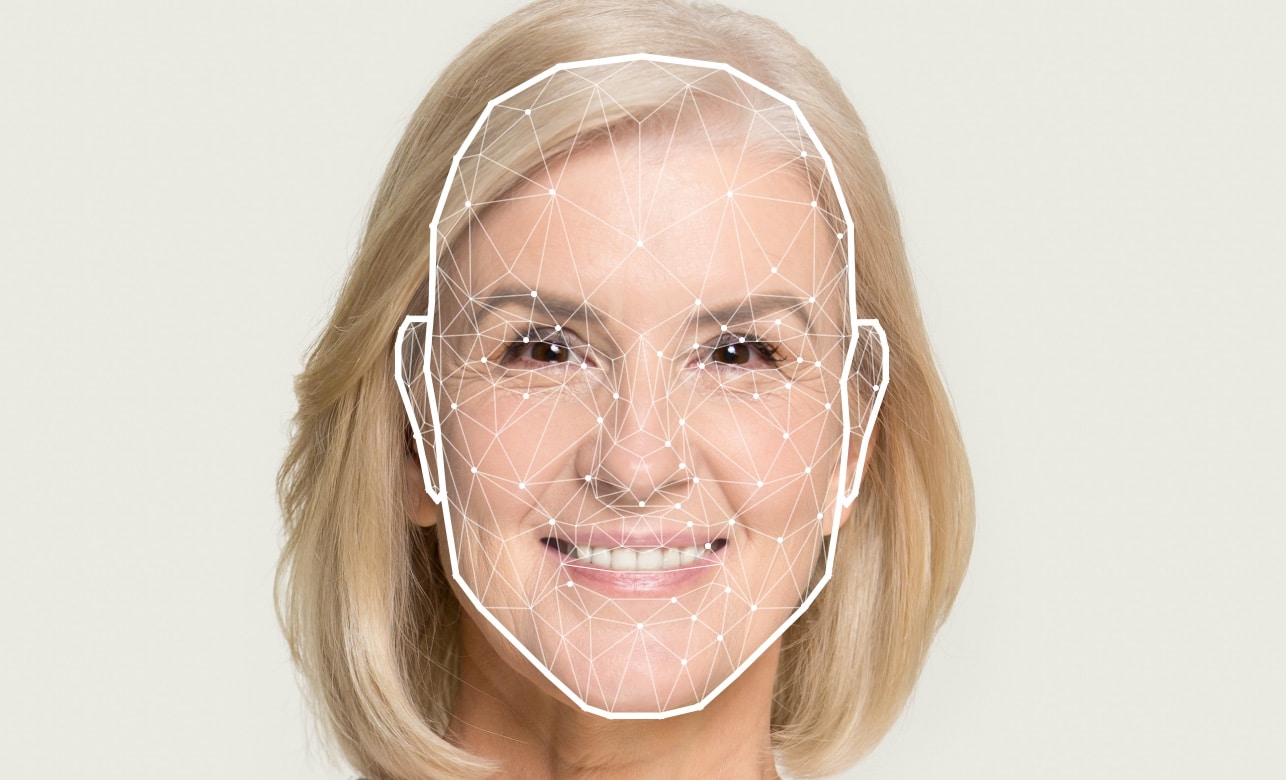 Biometrics Server Adjustments
SETUP AND CONFIGURE SERVER SUCCESS/FAILURE THRESHOLDS BASED ON CLIENT NEEDS
Each client is provided a biometrics server that can be configured to their respective needs and thresholds. Enrollment and authentication can be set up with various modalities to include face, voice and liveliness detection. Each implementation can include one or multiple authentication methods to ensure and validate accuracy of results. A passcode can also be used in conjunction with any of the above solutions as a multi-factor authentication.
DATA AGGREGATION FROM ALL SOURCES
The portal provides an aggregated view of all "Proof of Life" enrollments and authentications per customer regardless of geographical location. A normal "Proof of Life" cycle takes approximately 11 months due to many factors. The biometric solution provides clients exceptional efficiencies which provides the ability to perform a "Proof of Life" as often as needed or on demand. Individuals who failed to comply with client attestation requirements can be easily identified and contacted via the mobile application. Custodians and/or individuals with power of attorney can also be captured within the portal as a matter of record for each retiree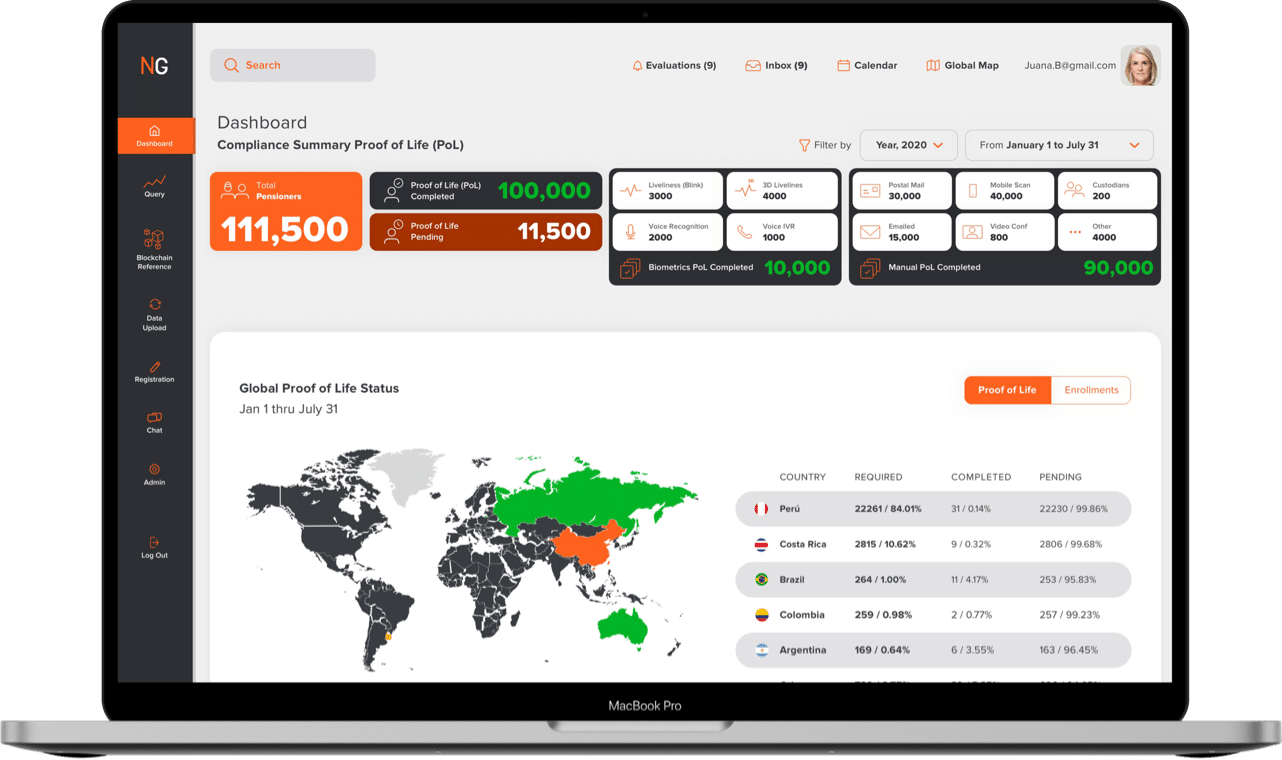 Other integrations available at client request